NEWS | Jan 2021 | Virtual conversations and next Summer University
Following a pause in its activities due to the pandemic which resulted in the deferment of the Summer University 2020, the Network is planning a series of virtual conversations on major topical subjects. This began with a virtual conversation with Damian Green MP, Chair of the One Nation Caucus in the House of Commons. This series will culminate at the next Summer University to be held in September 2021 where we will bring together thought leaders of the next generation from politics, business, academia and civil society with some of the most respected decision-makers and thinkers on long-term trends.
NEWS | Oct 2020 | Update from the team
Following its launch, the Network has now become a Company Limited by Guarantee. The main focus has been to build the Network step by step through using the Summer University as its' principal annual meeting place. To read the latest information visit our About us page.
NEWS | The 2019 Ideas Network 2030 Summer University
Click on the image below to hear about the Summer University.
The 2019 Ideas Network 2030 Summer University was held at Saïd Business School in Oxford on Thursday 12th September and Friday 13th September. The meeting focused on key areas including Security, Migration & Demography, Digital Change, Sustainability, plus Trade & Economics. You can view the full agenda here or click here to watch more videos.
---
NEWS | The 2019 Ideas Network 2030 Future Programme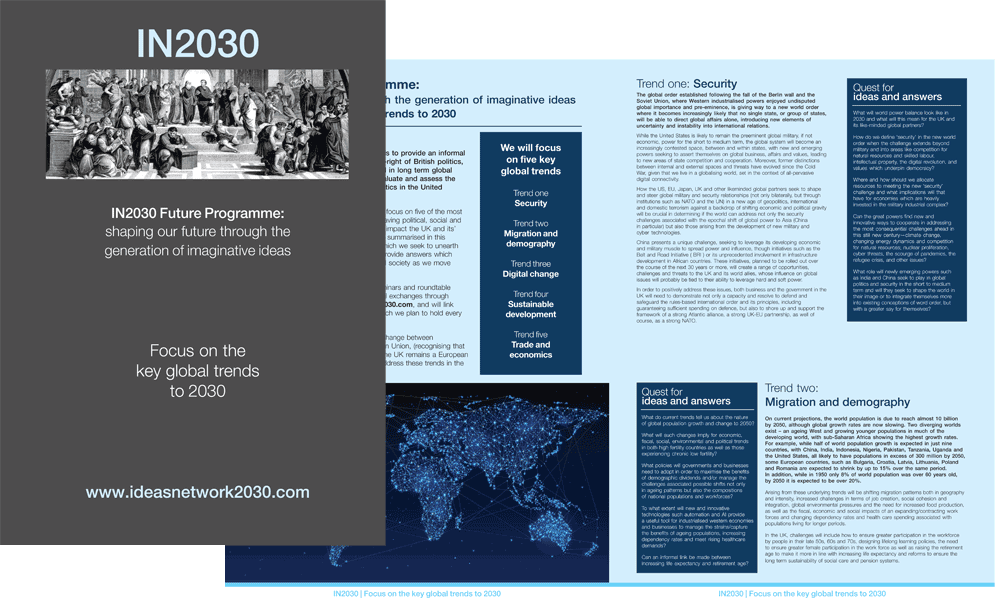 ---
SEPTEMBER 2018 | Our journey begins
The Ideas Network 2030, was launched with a conference in oxford at Rhodes House in September 2018. At the event a number of key leaders and opinion formers agreed to share their thinking to stimulate the debate.
Click on the image below to hear more about the Network.
To find out more about our launch event and other events visit our events page.
---
Join us
If you would like to be part of the Ideas Network 2030 please send an email with your details to office@ideasnetwork2030.com