In developing the Network and forming our ideas, we will have access to good source documents, such as those from the ESPAS network – the European Strategy and Policy Analysis System – which is currently carrying out an extensive exercise into 2030 global trends with regard to the challenges facing the European Union.
For all the latest documents please visit the Open Repository Base on International Strategic Studies (ORBIS) webpage. With over 1,000 documents, this brings the world's largest library of prospective studies to your fingertips. Discover the long-term trends that will shape society.
---
ESPAS was initiated in 2010, when a pilot project launched by the European Parliament laid the foundations for cooperation and dialogue between the four participating organisations. The result of this pilot was the publication of a report in the spring of 2012 by the EUISS entitled 'Global Trends 2030 – Citizens in an Interconnected and Polycentric World' which assessed the long-term political and economic environment facing the EU. The report identified several global trends that will shape the world in 2030.
---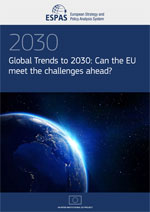 In 2011, the European Parliament gave the go-ahead for a second stage in the project – a so-called 'Preparatory Action' – with a view to putting in place by 2014 a permanent inter-institutional system to identify and analyse long-term trends.
In 2012, three inter-institutional working groups were set up to oversee an intensive analytical process, including outreach to those interested in engaging with ESPAS, in order to draft trend reports in three key fields: the economy, society, and governance and power. The process resulted in the publication of the report Global Trends to 2030: can the EU meet the challenges ahead?
---