Friday 8 September 2023
AUTUMN SEMINAR: Digital transformation and Economy and Trade
---

Click above to watch short summary of the Autumn Seminar (8.5 min video).
---
Scroll down for more information or click to jump to the agenda, speakers bios of an AI-assisted summary of the event
> Agenda
> Speaker bios
> AI assisted summary
> Speeches from Oriel College dinner
---
Agenda
---
10:00 – 10:05
Welcome and introduction
Frank Nigriello, Director of Corporate affairs, Unipart Group
---
Digital Transformation: Digital World towards 2040
---
10:05 – 10:45
Political overview (by live video link)
Pilar del Castillo MEP
Matt Warman MP
followed by Question & Answer Session

Click above to watch full session (40 min video).
---
11:00 – 12:15
Keynote speaker
Ajit Jaokar, University of Oxford/European Internet Forum Rapporteur
Comments:
Žiga Turk, Member of Academic Council, Wilfried Martens Centre for European Studies & Professor, University of Ljubljana
Simon Mehdian-Staffell, Director Government Affairs, Microsoft,
Moderator: Lord Hall, Member of the Communications and Digital Committee
followed by Question & Answer Session
Technological advances are unremitting and spreading at an unprecedented rate. We have become ever more reliant on them in an interconnected and digitally enabled age. More assessment is urgently needed of their social and political consequences. The latest phenomenon coming into prominence is Artificial Intelligence (AI) which is both complex and evolving. Furthermore, the global digital economy risks fragmentation through the emergence of national digital rules, notably in China and Russia.

Click above to watch full session (58 min video).
Further information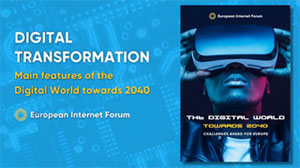 At the IN2030 Autumn Seminar, Ajit Jaokar presented a set of slides which summarised the European Internet Forum report "The Digital World Towards 2040:Challenges ahead for Europe". To access his slides click here
---
12:15 – 13:00
Special Guest (by live video link)
Rt Hon Rory Stewart OBE, President of GiveDirectly, Host of the 'Rest is Politics' and former Secretary of State for Development
followed by Question & Answer Session
Moderator: Michael Thompson CMG OBE, HM Diplomatic Service (Retd)

Click above to watch full session (42 min video).
---
13:00 – 14:00
Lunch
Networking opportunity
---
14:00 – 15:00
Tour of the Advanced Supply Chain Institute
The Advanced Supply Chain Institute (ASCI) is a multi-purpose learning and collaboration space in Unipart House, where tomorrow's supply chains are reimagined, enhanced and transformed. The ASCI demonstrates and showcases existing and evolving Industry 4.0 technologies applied to various supply chain contexts.
---
Economy and Trade: "Perspectives 2030: where will the new jobs and growth come from?"
---
15:00 – 16:15
Keynote speaker
Bruce Stokes, Visiting Senior Fellow, German Marshall Fund
Comments:
Sam Lowe, Partner, Flint Global
Eoin Drea, Senior Research Officer, Wilfried Martens Centre for European Studies
followed by Question & Answer Session
Moderator: Alex Boyd, Director, Strand Partners
Global economic trends to 2030 such as strategic competition, the low-carbon transition and digital transformation are likely to affect the dynamics and outcome of trade within and across regions. After the pandemic, many countries are facing common challenges – distorted and tense trade relations, shortages of critical goods (especially semiconductors) and increased pressure to make supply chains more secure, sustainable and resilient. In light of these trends, the panel will examine how the UK can best drive investment, growth and job creation to 2030.

Click above to watch full session (1 hour 18 min video).
Further information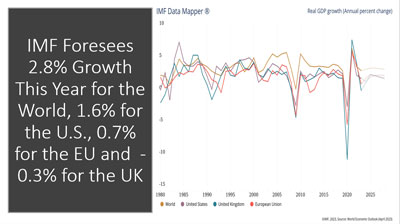 At the IN2030 Autumn Seminar, Bruce Stokes presented a set of slides. To access his slides click here
---
16:15 – 17:15
Coffee break and networking
---
17:15 – 18:00
Transfer to Oxford Centre from Unipart
---
18:00 – 19:00
Free time in Oxford
---
19:00 – 19:30
Welcome reception at Oriel College
The IN2030 Autumn Seminar will be followed by a Reception and Dinner at Oriel College, Oxford, chaired by Rt Hon Damian Green MP, to which all confirmed delegates will be invited. The reception and dinner are at the invitation of the Wilfried Martens Centre for European Studies.
---
19:30 – 22:00
Dinner at Oriel College
Charting the course for the UK and Europe: how to improve relations towards 2030?
Opening comments: Damian Green MP, President IN2030
Remarks: Tomi Huhtanen, Executive Director, Wilfried Martens Centre
Moderator: James Elles, Director IN2030
About Oriel College, Oxford
With a history spanning almost seven centuries, Oriel College was established in 1324 by Adam de Brome, under the patronage of Edward II and the College received a Royal Charter in 1326. Soon after its foundation, the College was given a property called 'La Oriole' on the site of the present First Quad and gradually the College came to be called by that name. It has transformed from its foundation as a small college of ten Fellows with a focus on just three academic subjects to an institution that is home to almost fifty Fellows and 500 students studying more than thirty subjects across the sciences, social sciences and humanities.
---
Speakers
About the speakers (in order of agenda)
---


Pilar del Castillo MEP
Pilar del Castillo has been a Member of the European Parliament since the 2004 European elections. She has been serving as coordinator for the Group of the European People's Party in the Committee on Industry, Research and Energy (ITRE), and as substitute member in the Committee on Economic and Monetary Affairs (ECON).
---


Matt Warman MP
Matthew Robert Warman is a British Conservative Party politician and former journalist who served as Minister of State at the Department for Digital, Culture, Media and Sport from July to September 2022. He has been the Member of Parliament (MP) for Boston and Skegness since May 2015 and was an Assistant Government Whip from April 2019 to July 2019. He served as a Parliamentary Under-Secretary of State for Digital Infrastructure from July 2019 to September 2021.
---


Ajit Jaokar
Based in London, his work spans research, entrepreneurship, and academia relating to Artificial Intelligence (AI) with Cyber-Physical systems, He is the course director of the course: Artificial Intelligence: Cloud and Edge Implementations at the University of Oxford. He is a visiting fellow in Engineering Sciences at the University of Oxford. He is also working on a book to teach AI using mathematical foundations at the high school level.
---


Žiga Turk
Žiga Turk is a Professor at the University of Ljubljana, Slovenia. He holds degrees in engineering and computer science. As academic he studies design communication, internet science and scenarios of future global developments, particularly the role of technology and innovation. He is an internationally recognized author, public speaker and lecturer on these subjects. Dr Turk was Minister for Growth as well as Minister of Education, Science, Culture and Sports in the Government of Slovenia and Secretary General of the Felipe Gonzalez's Reflection Group on the Future of Europe. He is a member of the Academic Council of the Wilfried Martens Centre for European Studies.
---


Simon Mehdian-Staffell
Dr Simon Mehdian-Staffell is Director Government Affairs, Microsoft and is a visiting research fellow at the Department of War Studies, and a fellow at the Royal United Services Institute (RUSI). He previously served in the UK government, working primarily on national security issues. He held senior appointments in the Foreign and Commonwealth Office, Home Office and Cabinet Office, and postings in Cairo and Washington DC. He was awarded his PhD in politics from Sheffield University in 2010 and was previously an Adjunct Professor at Georgetown University in Washington DC. Prior to joining government, Simon was a teacher and founded a college programme in Sheffield for the study of religion and philosophy. His research interests involve the intersection of technology, policy and society.
---


Lord Hall
Anthony William Hall, Baron Hall of Birkenhead, CBE is a British life peer. He was Director-General of the BBC between April 2013 and August 2020, and chaired the board of trustees of the National Gallery until May 2021. He is a member of the Communications and Digital Committee.
---


Rt Hon Rory Stewart OBE
Rory Stewart is President of GiveDirectly, host of 'The rest is politics' and Former Secretary of State for International Development. He is a Visiting Fellow at The Jackson Institute at Yale University. Formerly he was Minister of State, Ministry of Justice (2018-19); Minister of State, at the Department for International Development and Foreign and Commonwealth Office (2017-18); Environment Minister (Parliamentary Under Secretary of State for Department of Environment, Food and Rural Affairs) (2015-16); Member of Parliament (Conservative) for Penrith and The Border (2010-); Chair, Defence Select Committee (2014-15); Member, Foreign Affairs Select Committee (2010-14); Ryan Family Professor of Human Rights, Harvard University; Director, Carr Center for Human Rights Policy, Harvard Kennedy School; Founder and CEO, Turquoise Mountain, Kabul (2006-08); Coalition Deputy Governor, Maysan and Dhi Qar Provinces, Iraq (2003); HM Diplomatic Service: postings to Indonesia and Montenegro; British Army.
---
Michael Thompson CMG OBE
Michael joined the Foreign and Commonwealth Office in 1964. Postings overseas included Malaysia 1965-1967 and 1979-1981, Vietnam 1970 -1973 (height of the War), Zambia 1973-1976 and Hong Kong 1981-1984 (opening years of negotiations with China over the future of Hong Kong). Following retirement in 1991, he was Chairman of Civil Service Selection Board (CSSB) and other Personnel Selection Boards. Postings in London included management of our interests in the Far East and then in Africa where over a period of some 18 months he was in touch with Nelson Mandela following his release and found him the most impressive human being he has ever met.
---


Bruce Stokes
Bruce Stokes is a Visiting fellow at the German Marshall Fund, a former international economics correspondent for the National Journal, a former senior transatlantic fellow at the German Marshall Fund and a former senior fellow at the Council on Foreign Relations, where he is a member. He was also director of global economic attitudes at Pew Research Center, where he assessed public views about economic conditions, foreign policy and values. Bruce is a graduate of Georgetown University's School of Foreign Service and Johns Hopkins University's School for Advanced International Studies. He is the co-author of the book America Against the World: How We Are Different and Why We Are Disliked (Times Books, 2006).
---


Sam Lowe
Sam Lowe is a Partner at FlintGlobal. Flint advises businesses and investors on policy, politics, regulation and competition economics in European and global markets. Sam is Senior Visiting Research Fellow of the Policy Institute at King's College London.
---


Dr. Eoin Drea
Dr. Eoin Drea is Senior Researcher in the Wilfried Martens Centre for European Studies specialising in macroeconomic and social policy. He is an expert in the political economy of the European Union focusing on the future of the Eurozone, EU-UK and EU-US relations (the Anglosphere), property economics, crypto assets and the socio-economic challenges facing middle class families. Dr. Drea is a former Irish Research Council postdoctoral fellow in the School of Business, Trinity College Dublin and holds a PhD in economic history from University College Cork. He is a regular media contributor and his opinion pieces have appeared in Foreign Policy, Politico, The Guardian, The Times of London and The Irish Times among others. Prior to undertaking his PhD, Dr. Drea gained over six years' experience as a private sector economist. He has also served on the Board of Fine Gael's Policy Lab (2020-22), the innovative policymaking initiative within Ireland's largest centre right political party.
---


Alex Boyd
Alex Boyd is a Director at Strand Partners, a consultancy based in London. He formerly worked as a senior civil servant and special adviser in UK Government as well as in the European Parliament.
---


Rt Hon Damian Green
Damian was first elected to Parliament 1997, being re-elected seven times, most recently in 2019. He was the First Secretary of State and Minister for the Cabinet Office from June 2017 until December 2017. In 2016 he was the Secretary of State for Work and Pensions, and from 2012-14 was Minister of State for Policing, Criminal Justice and Victims, a role covering both the Home Office and the Ministry of Justice. In October 2012 he was made a member of the Privy Council. From May 2010 to October 2012 he was Minister of State for Immigration. He was a Conservative Spokesman on Education and Employment from 1998-99, Conservative Environment Spokesman from 1999-2001, Shadow Secretary of State for Education and Skills from 2001-2003, and Shadow Secretary of State for Transport from 2003-2004. From July 2004-2005 he was a member of the Home Affairs Select Committee; from July to December 2005 he was a member of the Treasury Select Committee. In December 2005, he was appointed Shadow Minister for Immigration. He is a former financial journalist and worked in the Prime Minister's Policy Unit from 1992-94. Damian contested Brent East in the 1992 General Election. He was educated at Reading School and Balliol College, Oxford. He was President of the Oxford Union in 1977.
---


Tomi Huhtanen
Tomi Huhtanen studied International Politics and Economics at the University of Helsinki and spent a year in Spain at Universidad Autónoma de Madrid studying International Law and Political History. He also holds an MBA degree from the United Business Institutes in Brussels. Tomi started his career by working for the Finnish delegation of the European People's Party in the European Parliament. From 1999 to 2007, he was a Political Adviser and subsequently a Senior Adviser for the EPP, mainly focusing on economic and social policy. During this period, he launched the European View policy journal, of which he became Editor-in-Chief. In 2007, Tomi was put in charge of launching the political foundation of the European People's Party, the Centre for European Studies (renamed the Wilfried Martens Centre for European Studies in 2014); in the same year, Tomi was nominated as the Centre's Director, and is since October 2015 its Executive Director. Tomi has provided analysis on a host of political issues for European and international outlets such as Euronews, the Hindustan Times, Deutsche Welle, and the Financial Times. Tomi speaks Finnish, Swedish, English, Spanish, French, Italian, Greek and has basic knowledge of German.
---


James Elles
James Elles was a British Conservative member of the European Parliament from 1984 to 2014. He is Co-founder of the European Internet Forum (EIF) and the Founder and Chairman of the Transatlantic Policy Network (TPN). He is also the Honorary President of the European Strategy and Policy Analysis System (ESPAS) and Director of the Ideas Network 2030.
---
Summary of event sessions

As much of the conference was focused on artificial intelligence (AI) we used AI to assist in creating a summary of the key points of the meeting and you can read below the results.
---
SESSION 1 – Digital Transformation: Digital World towards 2040 – Political overview
---
Pilar Del Castillo
Here is a summary of the key points made in the presentation:
– Digital transformation is essential and digital technologies are now the foundation of all innovative and competitive economy sectors. The EU estimates the digital economy will be 24.3% of GDP by 2025.
– The EU single market of over 400 million people allows development of economies of scale to compete globally. The EU maintains competitive positions in areas like industrial software, robotics, and manufacturing.
– EU institutions have made decisions to facilitate digital transformation in Europe by developing a single market, ending fragmentation, establishing data rights and privacy, and enabling safe AI development.
– The new EU Data Act sets rules on industrial data use, ensures user data access from connected products, and boosts the data economy.
– There are concerns about over-dependence on non-EU suppliers for digital infrastructure like processors and cloud computing. Programs like Digital Europe (75 billion euro) aim to strengthen EU capabilities.
– The EU Chips Act (40 billion euro) also aims to increase EU processor market share from 9% to 20% by 2030.
– The EU's approach should not be protectionist but reinforce partnerships with those sharing democratic values, like through the new EU-US Trade and Technology Council.
– It's vital to keep strengthening EU-UK cooperation on digital issues as outlined in the TCA digital chapter, ensuring continuity of data flows.
– Overall coordination on digital policy must continue to ensure AI development respects privacy and data transfers enable services and e-commerce.
---
Matt Warman
Here is a summary of the key points made in the presentation:
– Regulation of digital technologies will accelerate as regulators grapple with issues raised in recent years regarding social media, data, AI, etc.
– Global collaboration is needed to regulate giant tech companies in a way that is not confined to individual nation-states. Values differ between countries so progress requires new forms of cooperation and diplomacy, as seen with upcoming UK-hosted AI summit.
– Existing institutions like G20 must also be fully utilized in developing this modern, collaborative regulation.
– On digital infrastructure, over-reliance on non-EU companies like Huawei needs to be addressed. EU semiconductor efforts are important but dependency on Taiwan remains an issue given geopolitical sensitivities.
– Diplomacy around global digital regulation will be challenging with countries having very different values. Finding common ground and frameworks for cooperation is essential but difficult.
– Avoiding past mistakes in digital infrastructure rollout is also key so people can benefit from new technologies and be part of the regulatory conversation.
– While technical in nature, these issues of international collaboration on digital governance and reducing supply chain vulnerabilities have immense diplomatic and geopolitical significance in coming years.
---
SESSION 2 – Digital Transformation: Digital World towards 2040
---
Ajit Jaokar
Here is a summary of the key points made in the presentation:
– The presentation looked at AI trends towards 2040 across three areas – technology, economy, and society.
– A central concept discussed was "intelligent autonomy" – machines acquiring intelligence and collaborating autonomously with humans. This has implications for jobs, security, delegation of tasks to AI, etc.
– Key technological questions involve the potential development of artificial general intelligence (AGI) that can perform multiple complex tasks, and the foundation technologies like chips and networks that will enable this.
– On the economy, geopolitics will be important as values differ across regions. There are also considerations around regulation, productivity, work automation and skills.
– On society, adoption patterns may differ – some being early AI adopters, others medium or slower. Authoritarian vs democratic regimes will also apply AI differently.
– Overall, with AI progressing rapidly, a key question is how capable AI will become by 2040 and what the impact will be on jobs, economies, and societies as humans collaborate with increasingly intelligent technology.
In summary, the presentation provided a high-level framework on AI's potential technological progress, economic impacts, and social considerations over the next 15-20 years. Key questions center on the extent of autonomous capabilities developed and the ways human roles and societies transform as a result.
---
Simon Staffell
Here is a summary of the key points made:
– The concept of "intelligent autonomy" and machines collaborating autonomously with humans was discussed. An alternative view is human augmentation – using advances in AI like large language models to enhance human capabilities rather than replace them. This allows more democratized engagement.
– There are questions around whether full autonomy is desired, or if maintaining human control and agency is preferable as we move towards AGI.
– On geopolitics, there is a risk of fragmentation in digital policy. But there may be lessons learned from past lack of regulation of the internet and social media. Through groups like the G7 and UN, a more optimistic global framework could potentially be developed, akin to what exists in sectors like aviation.
– On AI automating human work, the risk of job displacement is real. But the solution is not just top-down policy. It should focus more on empowering individual agency to use these technologies. Workers and students should drive adoption rather than having it imposed on them. Re-injecting human agency into the discussion is key.
In summary, the themes covered the balance between autonomous systems versus human augmentation, the potential for collaborative global governance, and maintaining human empowerment and agency amidst AI development.
---
Ziga Turk
Here is a summary of the key points made:
– Poland is using digital as a springboard for development, becoming an IT powerhouse in Europe.
– AI has limits in what it can do. Large language models operate only in the symbolic corner of the semiotic triangle – they analyze texts, images, patterns, but have no understanding of underlying concepts or the real material world.
– AI models are like the tip of an iceberg – they can efficiently generate text, images, etc but lack the deeper conceptual ideas and understanding that humans have below the surface.
– More data and parameters won't necessarily improve this, as humans can reduce problems in ways AI currently cannot, using theories and models of how the world works.
– Tools like GPT are great at continuing patterns but can't create finished products requiring multiple steps and integration of concepts.
– The outputs may sound reasonable but lack underlying reasoning. We shouldn't extrapolate that there is actual understanding there.
– AI has fantastic capabilities in narrow applications but we should be realistic about its limits for more general intelligence. It operates only on the symbolic surface level for now.
In summary, while AI has seen impressive advances, we need perspective on its current abilities – it works well in constrained domains but cannot yet exhibit the conceptual depth and reasoning of human intelligence.
Responses
Here are the key points made in the discussion:
– Human augmentation with AI is important, but looking towards 2040, there is also a trajectory towards more autonomous AI agents accomplishing higher-level goals.
– The argument about symbolic vs statistical AI has a long history, with neural networks now ascendant. But neuro-symbolic AI could combine both approaches. Scalability is key.
– Models like GPT are attention-grabbing but open source alternatives like Anthropic's LLMs are also significant, allowing decentralized AI development.
– AI models currently have limitations in deeper reasoning and understanding. They are useful assistants but not masters. More conceptual knowledge needs to be "spoon-fed" to them.
– Autonomous systems like building controls already operate well in constrained domains. But full autonomy in complex realms like driving remains challenging due to unpredictable edge cases.
– On human agency, models can enhance abilities if used as tools – e.g. in education, research, coding. But as model capabilities improve, maintaining beneficial human-in-loop applications will be important.
In summary, the current state of AI has clear limitations compared to human cognition, but steady progress is being made. Finding beneficial uses that augment human abilities, while monitoring future autonomous capabilities, will be key in the years ahead.
---
Q and A
Here is a summary of the key points from the discussion:
– AI and automation will cause major workforce displacement. Retraining and education reform will be critical to adapt society. Content may need to change, not just delivery methods.
– On policy priorities looking ahead, three areas stand out – education, geopolitics/values, and jobs/skills. Education needs rethinking for the AI age – traditional models may not suffice.
– Handling change will be hugely disruptive including for universities. Their value proposition and offerings may need to evolve.
– Policy should take a systemic, bottom-up view focused on empowering people to use AI, while also developing interoperable global AI governance frameworks.
– On regulation, permissionless innovation is important but so are safety and responsibility. The right balance is needed to enable growth while mitigating risks. Common law tradition of addressing disputes as they arise may work better than heavy upfront regulation.
In summary, workforce impacts, education reform, values-based global cooperation, individual empowerment, and balanced regulatory approaches were highlighted as key policy priorities in addressing the societal changes driven by AI.
---
SESSION 3 – Special Guest
---
Rory Stewart
Here is a summary of the key points:
– Rory Stewart outlined 3 distinct eras in recent history:
– 1989-2004: Age of liberal global order. US unchallenged, spread of markets, globalization and democracy.
– 2004-2014: Age of uncertainty. Financial crisis, stagnating productivity, Iraq/Afghanistan questioned liberal order. Rise of China and social media polarization.
– 2014-today: Age of populism. Rise of nationalist, authoritarian leaders and decline of democracies. Distrust in institutions, polarization.
– Key questions are how the liberal center responds to populism, articulates a compelling economic policy, handles issues like AI and climate change, and gets global cooperation going again.
– Context is the conference has covered AI and digital transformation but experienced some technical issues.
– The floor is opened up for audience questions on any topics for Rory Stewart. The world is seen to be in a period of rapid, unpredictable change. A key focus is how moderate political voices respond to the current wave of populism and nationalism.
In summary, Rory Stewart outlines a recent history of liberal global order giving way to uncertainty and now rising populism. This raises questions about how moderate politics adapts and responds, and gets international cooperation going on major issues like technology, economics and climate change. The audience is invited to ask Rory questions on these issues.
Q and A
Here is a summary of the key points made:
– The next era could be one of despair or decentralization depending on how leaders respond to coming challenges like protectionism, national security threats, AI-driven unemployment, and social media's disruptive effects.
– The despair path involves inefficient, bloated states, mass unemployment without retraining, democracy decline, and isolationism.
– The decentralization path involves distributing power locally, flexible industrial strategies, retraining for AI, new political structures like citizens' assemblies, and ethical global engagement.
– On UK-EU relations, customs union membership could bring economic closeness without the political issues around free movement. Full rejoining may require a multi-speed Europe model.
– On Africa, optimism has faded amid coups and conflicts. But engagement, investment and development aid remain vital. The UK system lacks foreign policy expertise and interest.
– Social media algorithms that maximize engagement have fueled political extremism. Regulation is needed along with urgency on governing AI before proliferation.
– Defeating populism requires emotion, moral purpose and new ideas – not just dry policy. But much of the right has abandoned conservatism and restraint. Progressives now defend institutions against reckless populists.
In summary, avoiding despair requires decentralization and pragmatism. Closer UK-EU ties are still possible. Africa needs consistent engagement. Regulation of social media and AI is urgent. And defeating destructive populism means reclaiming morality, vision and true conservatism.
---
SESSION 4 – Economy and Trade: Perspectives 2030: where will the new jobs and growth come from?
---
Bruce Stokes
Here is a summary of the key points made in the presentation:
– Global economic growth projections are low – IMF forecasts just 0.7% for EU and 1.6% for US through 2025. Growth is shifting from advanced economies to emerging markets.
– Labour force growth has declined, contributing less to GDP growth. Productivity growth has also slowed, hurting advanced economies.
– China's growth is declining and expectations need adjusting – likely 0-3% growth ahead. Debt, unemployment, state control and demographics contribute to the slowdown.
– Global trade growth has slowed compared to postwar decades. Trade barriers are lower but other impediments may be holding back trade and growth. However, digital services are growing rapidly.
– Industrial policy and subsidies are resurging to secure supply chains, especially for critical minerals. Alternative policies are needed to reduce distortions.
– Automation and AI will continue displacing jobs. Americans think it affects others more than themselves – a recipe for populist backlash when it hits them personally.
In summary, an era of slower growth and disruption from technology and geo-economics requires pragmatic policies to drive productivity, empower workers, and maintain public support.
---
Eoin Drea
Here is a summary of the key points made:
– The global economic outlook is challenging, with slowing growth, stagnant productivity, declining labor forces, and trouble in China. However, there are some positives like increased digital trade and automation.
– There are four big socioeconomic questions:
1) How to pay for major transformations like climate change and digitalization.
2) Demographic challenges in developed countries – where will workers come from?
3) The need for education and reskilling as not everyone will be a coder or AI expert, but basic digital literacy is important.
4) Geopolitical uncertainties like potential policy changes after US elections that could impact investment.
– For the UK specifically, skills, reskilling, and education are critical to drive investment, growth and jobs. The UK needs to compete for high-tech talent globally but also reskill existing workers.
– The UK has strengths in energy and finance it can leverage. It should utilize North Sea resources during the energy transition and build on niches like green finance in the City of London.
– However, challenges like low productivity predate Brexit and have been amplified. The special US relationship is not the whole economic answer. Fiscal constraints from high debt may hinder short-term flexibility.
– The EU relationship should be mutually beneficial, with incremental progress potentially better than major shocks.
---
Sam Lowe
Here is a summary of the key points made:
– On trade attitudes, UK public concerns resemble other European countries more than the US – issues like standards and environment rank higher than jobs.
– The UK relies much more on trade overall than the US – around 50% vs 20% of GDP. This shapes its preference for rules-based trade versus unilateralism.
– The UK is vulnerable in a subsidies race, lacking fiscal room compared to the US and EU. Competition for investment is already occurring via incentives.
– National security considerations around China also have bigger economic implications for the UK than US. Policy balancing has proven tricky.
– Major UK export markets like the US, EU and China have all become more challenging trading environments. Even the EU deal worsened structural trade terms.
– For a strategic approach, the UK could focus on areas of advantage like renewables deployment, supply chain diversity, and new trade deals. More coherent and predictable policy would also help.
In summary, the UK is heavily trade-reliant but squeezed between US and EU subsidy muscle. Priorities should include renewables deployment at home, diversifying export markets, and improving the coherence of economic policy.
---
Q and As
Here is a summary of the key points made:
– The US is increasingly using Berlin rather than London as its main entry point for influencing the EU. However, the UK still has importance on some defense and national security issues.
– A comprehensive UK-US trade agreement is unlikely any time soon given Biden's reluctance on major deals. But a future deal is not impossible, though politically difficult on issues like agriculture standards.
– The City of London's status as a financial hub has declined post-Brexit without EU market access. But it retains strengths in areas like commercial insurance and fund management that are hard to replicate.
– On UK-India trade negotiations, historical reluctance in India to open markets remains, despite Modi-Sunak ties. A substantive deal is still uncertain.
– For 2024 elections, a close Trump-Biden rematch is likely in the US. In the UK, polls point to a significant Labour majority, while the center-right/left consensus in the European Parliament may weaken.
In summary, the UK's position as the US' European entry point has eroded but it retains security role. Financial services face EU access issues but have enduring strengths. Meanwhile election results could see shifts from centrist consensus in the US, UK and Europe.
---
James Elles closing remarks
Here is a summary of the key points:
– The event showcased excellence in three ways – excellent content on digital and economic issues, excellent speakers sharing their expertise and passion, and excellent organization by the hosts to make it a smooth and insightful event.
– Thanks is given to the venue, Unipart, for hosting in their state-of-the-art facilities.
– Thanks is given to the organizers, speakers, and attendees for making it an engaging and thought-provoking seminar on important issues like AI and the digital economy.
– The Ideas Network 2030 aims not just to discuss the present but delve into the future. Hopefully this event provided useful insight and understanding about emerging technologies like AI that will shape the coming years.
In summary, the closing remarks express appreciation for the excellence demonstrated by all involved in making it a successful and illuminating seminar, focused on providing critical perspective on the issues that will define the future.
---
IN2030 events are organised in cooperation with the Konrad Adenauer Stiftung, the Wilfried Martens Centre for European Studies and the Conservative European Forum. This event receives financial support from the European Parliament. Sole Liability rests with the organizers, the European Parliament is not responsible for the activity.