Friday 8 September 2023
AUTUMN SEMINAR: Reception and Dinner
Following the Ideas Network 2030 Autumn Seminar, delegates and invited guests gathered at the historic Oriel College in Oxford for a reception and dinner, hosted by the Wilfried Martens Centre for European Studies, where the subject of discussion was 'Charting the Course for the UK and Europe: How to improve relations towards 2030'.

Scroll down for more information or click to jump to individual speeches
> Opening remarks by Rt Hon Damian Green MP
> Summary of speech by Tomi Huhtanen
---
Opening remarks by Rt Hon Damian Green MP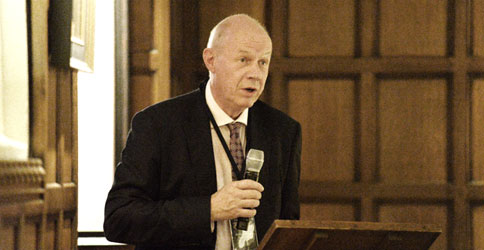 Welcome everybody and thank you all for joining. Particular thanks to the Wilfried Martens Centre for sponsoring this dinner. It is very generous of them to do so and represents I hope an important recognition that there are significant benefits in joint creative thinking between politicians and others in the UK and the EU countries. That's what the Ideas Network 2030 exists to promote and that context this is a very propitious week for us to meet. The associate membership for Britain with both the Horizon and Copernicus programmes is a really significant step forward in itself, and I believe it represents a real change in the attitude of the UK Government towards our European partners. Co-operation should be the default option.
Relations between the UK and EU have been difficult since the UK voted to leave in 2016. However, the Prime Minister's great achievement in negotiating the Windsor Framework earlier this year has opened up opportunities for improved relations and the opportunity for a wider reset. The Windsor Framework fixes part of the Northern Ireland Protocol which had been one of the root causes of many disagreements over the past few years between the UK and EU. During the UK-EU Joint Committee in March, both sides agreed to work together and faithfully implement all elements of the Windsor Framework. It's good to see that both sides have also agreed their intent to use all available mechanisms in the Framework to resolve any future issues that may emerge. The UK has also expressed intention to build a stronger relationship with the EU and to work closely in areas of mutual benefit. In 2024, the UK will host a meeting of the European Political Community which promotes cooperation between EU and non-EU countries and is itself an important positive signal that in the post-Brexit world the UK and EU countries can act constructively together.
The Ideas Network 2030 exists to explore what these areas should be. So let's learn some lessons from Jean Monnet. Monnet of course built what became the EU from individual sectors. He inspired the Schuman Plan to unite French and German national production of coal and steel under a single banner which lead to the European Coal and Steel Community and then the rest is history. Today, and for the rest of this decade I believe some of the most important issues we should focus on are defence, energy, immigration, space, and technology.
On the issue of defence, the multilateral order is under threat following Russia's illegal invasion of Ukraine. Europe must collectively consider its future security to challenge autocratic hegemony. The Trade and Cooperation Agreement between the UK and EU does not cover foreign policy or security and defence cooperation.
However, this has not hindered our coordination with European countries. Our security priorities are very closely aligned with that of the rest of Europe and the war in Ukraine has made it clear that the UK and EU are aligned on the need to respond to Russia's aggression. We have worked in close coordination with the EU to give a strong collective reaction including sanctions against Russia and various diplomatic, military, humanitarian and financial support. More than 8 million Ukrainians have been forced to flee their homes due to the war and have been welcomed all across Europe. Here in the UK, we have successfully resettled over 170,000 Ukrainians through our schemes such as Homes for Ukraine. The UK has also signed mutual security assurances with Sweden and Finland, as well as doubling the number of UK personnel stationed in Estonia to over 1,600.
Energy is also an issue which has also risen in importance following Russia's invasion of Ukraine- with countries looking at the importance of energy security. The issue of energy is also part of the climate change debate due to how we use it going forward. We have recently seen increased coordination between the UK and EU in energy security. In 2021, the UK was Europe's second largest producer of petroleum and natural gas. We export some of our gas to the EU as well as importing other energy from the EU in return. With this mutual trade and both the UK and EU heavily reducing their reliance on Russian energy imports, energy cooperation is going to be more important than ever.
Despite Brexit our energy markets are still deeply interlinked. The UK-EU Trade and Cooperation Agreement details three areas of energy cooperation. The first is North Seas Energy Cooperation which will promote renewable energy and boost economic growth. The second is electricity trading arrangements. And the third is UK-EU ETS linking although no progress has been made on linking the two Emissions Trading Scheme's as of yet.
Immigration both legal and illegal is a big topic across Europe. As a result, we have seen a rise in far-right party support. Following Brexit, the UK is no longer bound to the Dublin and Eurodac regulations, or other elements of the Common European Asylum System. We face common challenges in the number of illegal immigrants arriving on the shores of Europe. In 2023, 120,000 illegal immigrants have arrived in the EU and 20,000 in the UK . This is one area where greater cooperation between the UK and EU can see us take a sensible and fair approach to the immigration problem, in particular the dangerous human trafficking aspect of illegal immigration, which will ultimately save lives. It is great to see that the UK and EU have started to strengthen cooperation on immigration. This includes a partnership between British agencies and the European Border and Coast Guard Agency to tackle cross-border crime and people trafficking. However, we are not cooperating as well as we could be doing on immigration.
The final two issues of space and technology are very important for cooperation between the UK and EU to prevent other world powers, notably the USA and China, gaining the monopoly. Space exploration will change the face of global politics and be the source of potential conflict between nations going into the future. Not to mention the vast potential of resources out there of which nations and corporations will be in a race to discover. We already see the USA and China having their own military space branches. The UK does have its own Space Command but is dwarfed in size by that of USA and China. We have already been cooperating with Europe on Space through the European Space Agency since 1975 but more can be done. Space is an expensive affair, so cooperation is paramount to bring mutual benefits. We cannot compete with the likes of the USA and China alone. The EU has announced plans to build a third major satellite fleet in low-earth orbit to compete alongside large US commercial constellations such as SpaceX's Starlink. In a world of changed geopolitical realities, these are all programmes we should be getting involved in, especially on matters relating to security.
Finally, technology. Technology will be the major driver of prosperity, power and history-making events this century. There is an ever-increasing risk of cyber-attacks from malicious actors and nations. In 2022, global cyberattacks increased 38% and this is a figure which is likely to go up year on year. These cyber-attacks could potentially bring down a whole nation. The USA is rushing to develop technologies to compete with China, and Europe is at risk of being left behind if we do not cooperate and compete. We need to cooperate so we can push for technological advances but also for security to prevent cyber-attacks. Cooperation will ensure we all have access to the technology and skills necessary to rebuild our economies and future proof them post Covid. The UK needs to improve its cooperation on technology as there is a risk of us being side-lined. The Biden administration has already rejected UK requests to develop an advanced trade and technology dialogue similar to structures the US set up with the EU. The breakthrough on Horizon is a huge opportunity for mutual creativity in this area.
So let's take this week as a big step towards a renewed habit of mutual co-operation. IN2030 will continue to be tireless in pursuing this in a practical but far-sighted way. And you are all very welcome as supporters and participants.
---
Summary of speech by Tomi Huhtanen,
Executive Director at Wilfried Martens Centre for European Studies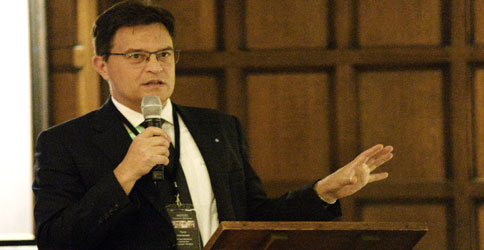 Recently, I had the privilege of attending an insightful event titled "Charting the Course for the UK and Europe: How to improve relations towards 2030." of IN2030 event in Oxford, partnered with Wilfried Martens Centre for European Studies. What a great event. I had a pleasure to address the audience.
Some key takeaways from my speech:
– Shifting Priorities: EU-UK relations no longer dominate headlines in Brussels or London. The focus has shifted due to events like the COVID-19 pandemic, Ukraine conflict, and global developments.
– No Animosity: Despite differing perspectives, there is no animosity between the EU and the UK, which is a positive development. This is mainly due to the overwhelming challenges we have had over the last couple of years.
– Big Global Common Concerns: Pressing concerns like the economy, Ukraine, China, and upcoming elections in 2024/25 for both the European Parliament and Westminster are at the forefront.
– A Step-by-Step Approach: The best way forward is to improve relations with concrete proposals. Examples include re-establishing the Northern Ireland Assembly in Stormont, rejoining Horizon 2020, increased cooperation on defence, smoother movement of goods, and opportunities in offshore wind energy production.
– Uniting Force of Ukraine: The war in Ukraine has become a unifying factor, highlighting the importance of security cooperation in uncertain times.
Shifting Dynamics in Europe: Europe is divided on the threat posed by Russia, with some Western nations hoping for a return to business as usual, while Eastern European countries perceive a more significant threat. In this context, The UK's Stand on Ukraine is deeply appreciated.
– The Role of the Conservative Party: As the architects of Brexit, the UK Conservative Party faces unique challenges in defining its post-Brexit vision.
– Opportunity for Collaboration: Despite tensions, Europe needs to work together in the face of challenges like war in Ukraine, energy crises, and the rise of China.
– No Room for Arrogance: Despite differing viewpoints, humility and awareness of potential storms ahead, including the US elections, are a reality in EU circles. Not much room for 'Schadenfreude' due to Brexit.
Conclusion: In a world where cooperation is more critical than ever, it's essential for the EU and the UK to find common ground and work together. While challenges remain, focusing on practical, smaller-scale issues may be the key to improving relations. Let's continue the dialogue and seek opportunities for collaboration.
---
IN2030 events are organised in cooperation with the Konrad Adenauer Stiftung, the Wilfried Martens Centre for European Studies and the Conservative European Forum. This event receives financial support from the European Parliament. Sole Liability rests with the organizers, the European Parliament is not responsible for the activity.